CSPC is Canada's most comprehensive, multi-sectoral, and multidisciplinary forum for emerging issues of science, technology and innovation policy.
Let us Bring your Brand, Message, and Ideas to the Biggest Science and Innovation Policy Forum in Canada.
CSPC's Partnership Program provides an exciting array of possibilities for public, private and not-for-profit sector stakeholders to showcase their importance in Canada's science, technology, and innovation policy ecosystem.
13,000+ Twitter Followers

2,000+ LinkedIn Followers
1,600+ Facebook Followers
8,000+ Website Clicks per Month during Fall 2020 
5,000+ Newsletter Subscribers
CSPC 2020 had 1773 Delegates:
Across Multiple Sectors
Across Career Levels
23% Senior Management
14% Executive
16% Scientists or Researchers
19% Student or Postdoctoral Fellows
 28% Other
Description of Partner Benefits
Complimentary Registration Passes
Complimentary registrations provided to attend the Virtual Conference, CSPC 2021.
Virtual Exhibit Booth – Example Coming Soon!
Exhibit booths provide the opportunity to connect representatives with delegates through text or video chat. The booth will also connect to the partner page (described below) that will display organization information and material.
Gamification also encourages interaction with exhibits and delegates
More details on the gamification coming soon!
Logo Acknowledgement on Conference Website
The organization's logo will be displayed on the partner's page on CSPC 2021 website, recognized based on partnership level
Logo Acknowledgement on Virtual Conference Platform
Partners will have a page dedicated to their organization. This page provides the opportunity to display videos, brochures, company description, and any relevant content.
Logo Acknowledgement in e-promos
A robust promotional email campaign will include a series of e-promos sent to delegates, highlighting a rotation of event features. Achieve  primary position with an engaged audience.
Regular Logo Acknowledgement in CSPC Newsletter
With more than 5,000 subscribers, the CSPC Newsletter is a must-read in the science and  innovation community. In the newsletters leading up to the conference, partner organizations will be repeatedly recognized with their logos.
Science Policy Magazine Advertisement
The third issue of Science Policy Magazine will be published in pdf format exclusive to all delegates for the duration of the conference and publicized on the CSPC website after the conference. Partners receive ad space based on their level of partnership and have the opportunity for their ad to be viewed by all readers.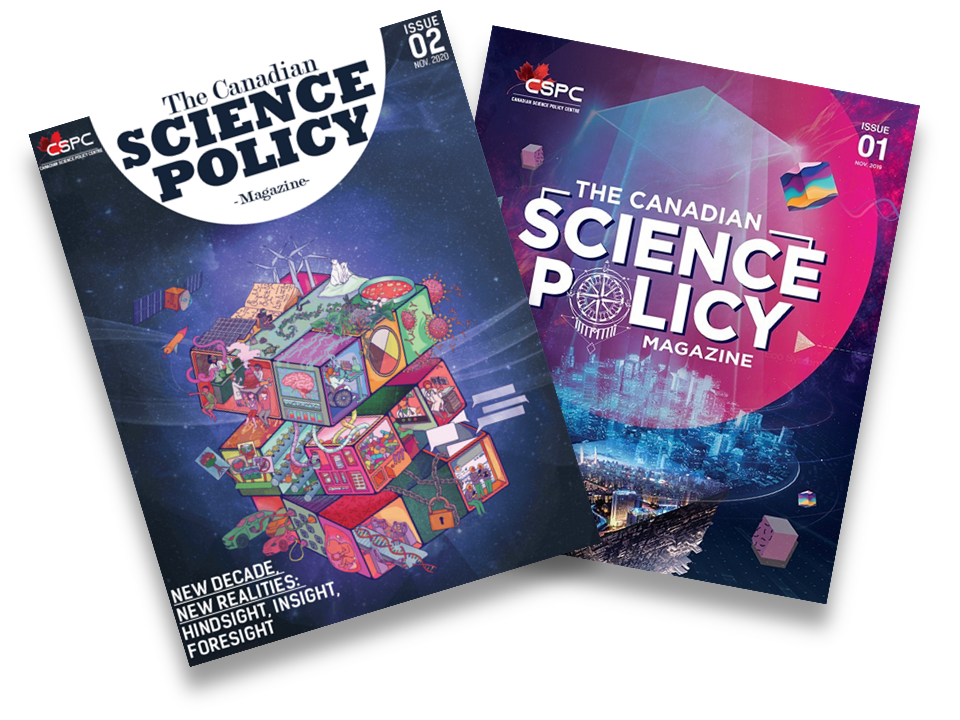 Social Media Mentions
Partner organizations will be recognized with their logo for their contribution to the conference by a series of social media messages thanking them for their support.
 Social Media Campaign
Leading up to the conference, CSPC social media will promote partner organization's messages by posting custom content to promote your messages. This content should be provided by the organization, and CSPC social media team will help with drafting your message.
Virtual Function Rooms
A 30-minute session spot to present to the CSPC audience on a topic and format of your choice!  The content will be your choice, some examples include: a report Launch, a lecture by a President/CEO or a famous figure, an interview or fireside chat, a panel session on a topic of  interest, or even recorded content; movie, speech, or other material. Other ideas include, a business presentation, a fitness break, a musical interlude. We encourage creativity and will be  happy to provide ideas and explore the options. Your session can be open to all delegates or by invitation only according to your choosing.
You will be providing the content description and CSPC will promote the session among delegates.
Pre-Recorded Video Interview with Senior Executive
A CSPC representative will be interviewing a senior executive of partner organizations. This interview will be a chance to discuss and showcase organization perspective and new projects. Use this pre-recorded interview  to produce a compelling message that aligns with your organization goals and share the video to promote your presence at CSPC2021. The interviews will be available on-demand exclusively to conference participants, and publicized on the CSPC website when the conference ends.
Networking Break Acknowledgement
Networking breaks will be branded and named after partner organizations.
These branded networking breaks will feature your company logo on the Virtual Conference program for extra logo exposure.
Logo Acknowledgement on Virtual Conference Platform Landing Page
The Virtual Conference Platform Landing Page will be starting  point for the entire CSPC2021 Virtual Conference! Partner logos will be displayed in the heading of the landing page through a rotating banner.
Design of Banner for your Panel
CSPC will be designing and disseminating a series of banners for panel sessions including sponsored panels. These banners will be used in the promotions, posted to the website, as well as being provided to speakers and organizers for their promotional use.
Pre-Conference Panel Sessions
CSPC will present a select series of panels in the two weeks leading up to the Conference. Let's discuss your  ideas for topic, format, and content to create a must-attend session.
Special Promotion of your Panel in Daily Emails
On the days of the conference, in CSPC's daily emails to delegates that will be promoting the events of the day, your panel will be featured prominently.
 Concurrent Panel Spot
A reserved spot for a concurrent panel session within the program. The topic and  speaker are provided by the partner. Partners are entitled to an extension on submitting panel information for their reserved panel spot. Your session details will be promoted!
Note, panels must follow general diversity rules of CSPC.

Plenary Session Spot
The partner organization will have a reserved spot for a plenary session, without competing with any other sessions scheduled within the program during that slot. The topic and speaker names are provided by the organization. Your session details will  be posted in the program and promoted!
Note, panels must follow general diversity rules of CSPC.
Let us Bring your Brand, Message, and Ideas to the Biggest Science and Innovation Policy Forum in Canada