Climate Resiliency in Canada: A "Coming of Age" for Adaptation?
Climate-Resilient Infrastructure, Intact Centre on Climate Adaptation, University of Waterloo
Natural Assets Initiative
Climate adaptation may be finally coming of age in Canada in 2023.
As our country reeled this summer from heart-rending headlines of communities consumed by extensive wildfires, homes destroyed by flooding, and vulnerable people suffering under extreme heat, the federal government released the country's first National Adaptation Strategy[1], setting out a shared path to a more climate-resilient Canada.
Having a plan is obviously a positive first step. We know the problems, and the strategy brings clear objectives and quantified, short-term targets to tackling them, in terms of disaster resilience, health, nature, infrastructure, and the economy. Now, all levels of government, financial institutions and businesses need to invest and deliver on the ground to achieve this shared vision.
Greater urgency and stronger leadership are required to really drive adaptation action.
One barrier is that climate adaptation is still portrayed as an environmental issue in Canada – the federal department mandated to deliver the strategy is Environment and Climate Change Canada. But, as I presented to the House of Commons Standing Committee on Transport, Infrastructure and Communities' study in May 2023[2], the reality is that climate change impacts are most acutely felt as financial and health impacts.
For example, considering catastrophic insured losses, $2 billion in losses is now considered a "normal" year in Canada (Figure 1). And what is not insured is estimated at 3-4 times this figure. In terms of health, 619 people lost their lives in the western heat dome in 2021[3] – deaths that are avoidable with adaptation.
It is time for the Government of Canada and the Ministry of Finance to "put the money on the table" and invest in adaptation, assign central accountability for delivery, and work with provincial and Indigenous governments on a coordinated approach that applies consistent best practices across the country. This includes coordination at the home level, such as a National Adaptation Resident Engagement Program, to coordination at the landscape-scale, such as nationally consistent regional approaches to managing river and coastal flooding.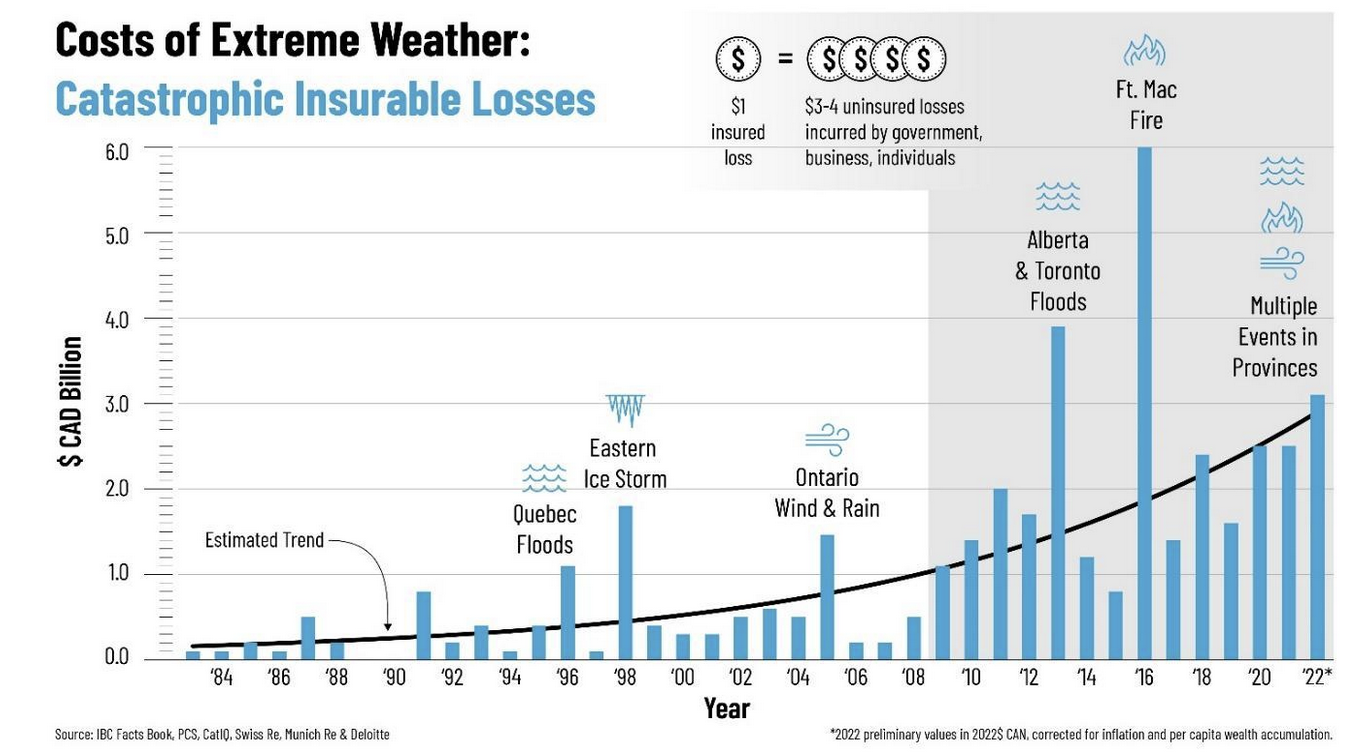 Figure 1: Catastrophic Insurable Claims ($ CAD/billions) in Canada, 1983-2022.
Blue bars represent loss + loss adjusted expenses.
We need to be clear that adaptation is not just about reducing climate risk, it is about making lives better and safer.
We should be looking for multiple benefits from adaptation. Governments and the private sector have already established solid "green" programs to increase energy efficiency and accelerate emissions reduction. However, it makes more sense to tackle different shades of "green" together – embedding climate adaptation and nature-positive solutions (many that are actually the colour green!) in existing programs is a key opportunity for both the public and private sector.
For example, green buildings must push beyond carbon and energy efficiency. Currently many "green" certification programs (such as Leadership in Energy and Environmental Design (LEEDTM), and others administered by the Canadian Green Building Council[4]) place limited emphasis on flood, wildfire and extreme heat resilience, and even less emphasis on solutions with mutual benefits for nature and biodiversity. Similarly, resident retrofit programs, like the Greener Homes Grant, could readily include climate resilience measures, as well as engage residents in actions that they can do around their home themselves, for example using the Intact Centre on Climate Adaptation's "3 steps" infographics[5].
There is also a need to "green" climate adaptation solutions themselves.
Nature is our frontline ally in tackling climate change, yet the majority of climate adaptation approaches in Canada turn immediately to traditional "grey" solutions to reduce risks that fight against natural processes (such as flood walls) . A review[6] of projects funded under the first intake of the Government of Canada's Disaster Mitigation and Adaptation Fund revealed that, of 45 projects funded to tackle river flooding, only 6 involved nature-based solutions. There are key opportunities to combine natural and grey infrastructure solutions in a way that achieves multiple benefits for people and nature, including for managing coastal flooding and erosion[7], river flooding[8], and extreme heat[9].
One way of mainstreaming infrastructure approaches that work with nature is to officially recognize the financial value of the services that are provided to people by natural assets[10] (such as wetlands, rivers, forests and grasslands). Business cases for adaptation measures in Canada are frequently based on a comparison of costs with avoided property and infrastructure damages, without routinely factoring in the economic value of ecosystem services provided to people (such as storing, soaking up, and slowing down water, and cooling our cities), or other social benefits (e.g. healthcare costs avoided). This means that we are not making sound economic decisions when it comes to selecting adaptation solutions.
The good news is that we already have many tools and guides to help us get adaptation right, and there are more in the pipeline.
Climate resilience standards, guides and practical tools have already been developed by many organisations, including Standards Council Canada[11], the National Research Council of Canada[12], CSA Group[13], (as well as my own organisation, the Intact Centre on Climate Adaptation[14] at the University of Waterloo). These tools however are worthless if they are not implemented. Communication, engagement, and implementation of solutions with a sense of urgency is by far the biggest hurdle that we face.
I see climate adaptation as reaching the end of adolescence in Canada – we have big plans, we have aspirations, and now it is time to "grow up" and put in the hard work to achieve them. Let's get to it.
References
1-https://www.canada.ca/en/services/environment/weather/climatechange/climate-plan/national-adaptation-strategy.html
2-https://www.ourcommons.ca/Committees/en/TRAN/StudyActivity?studyActivityId=12103385
3-https://www2.gov.bc.ca/assets/gov/birth-adoption-death-marriage-and-divorce/deaths/coroners-service/death-review-panel/extreme_heat_death_review_panel_report.pdf
4-https://www.cagbc.org/our-work/certification/
5-https://www.intactcentreclimateadaptation.ca/climate-ready-infographics/
6-https://www.csagroup.org/wp-content/uploads/CSA-Group-Research-Managing-Flooding-and-Erosion-at-the-Watershed-Scale.pdf
7-https://www.intactcentreclimateadaptation.ca/rising-seas-and-shifting-sands-combining-natural-and-grey-infrastructure-to-protect-canadas-eastern-and-western-coastal-communities/
8-https://www.intactcentreclimateadaptation.ca/managing-flooding-and-erosion-at-the-watershed-scale/
9-https://www.intactcentreclimateadaptation.ca/irreversible-extreme-heat-protecting-canadians-and-communities-from-a-lethal-future/
10-https://www.intactcentreclimateadaptation.ca/getting-nature-on-the-balance-sheet/
11-https://www.scc.ca/en/flagships/environment
12-https://nrc.canada.ca/en/research-development/research-collaboration/our-research-climate-resilient-buildings-infrastructure
13-https://www.csagroup.org/article/bridging-the-gap-in-climate-policy/
14-https://www.intactcentreclimateadaptation.ca/recent-reports/