Canadian Science Policy Centre (CSPC) offers a series of training workshops that are designed to enable the next generation of science policy experts through professional development.
We invite you to continue on your path of professional development as we embark on the future of science policy in Canada.
Workshop topics include:
Professional Development Workshops will be assembled upon request by organizations and a certificate of completion will be provided. Interested in participating? Contact us today.

Led by Jeff Kinder, PhD
Executive Director, Science and Innovation, Institute on Governance. Former Director, Federal S&T Secretariat. Author and co-editor, A Lantern on the Bow: A History of the Science Council of Canada and its Contributions to the Science and Innovation Policy Debate (Invenire, 2018).
Researchers and policymakers must engage effectively with each other, for the sake of both: advancement of STI as well as for making policies informed by scientific evidence. Creating a bridge between scientific research and policymaking, this workshop deals with strategies for symbiotic relationships between key stakeholders.
SCIENCE DIPLOMACY:
NEW APPROACHES TO INTERNATIONAL RELATIONS
Led by Daryl Copeland
Former diplomat. Fellow, Canadian Global Affairs Institute & University of Montreal's Centre for International Studies and Research (CERIUM). Author, Guerrilla Diplomacy: Rethinking International Relations (Lynne Rienner, 2009).
The most pressing and "wicked" transnational issues of our times- climate change, resource scarcity, pandemic disease, and weapons of mass destruction – are all rooted in science and technology. We are witnessing our planet being propelled towards a tipping point beyond which recovery may prove impossible. Re-imagination of diplomacy and the role and competencies of the diplomat is imperative if catastrophe is to be averted. We need to develop a synergistic approach to statecraft, and managing the relationship between science, technology, diplomacy, and international relations.
EQUITY DIVERSITY & INCLUSION IN SCIENCE:
CREATING AN EDI CULTURE
BEST PRACTICES IN EVIDENCE-BASED
DECISION MAKING
Are policymakers using best possible evidence to inform decision making? What is credible evidence and how do policymakers access it? How should our policy making system adopt best practices to address the rapidly changing realities in our society while reflecting our values? These are some critical questions which affect all of us at organizational and individual levels; and can be addressed through the lens of all three stakeholders: researchers, policymakers, and the public at large.
SCIENCE COMMUNICATION:
LINKING RESEARCH TO POLICY AND THE PUBLIC
Simplifying science for its intended audience, without losing the scientific essence is a tough but crucial balance! When done right, it can translate science into action- in the form of policy. Great science communication can also result in greater public engagement by bridging the gaps between scientific and social values. If you are looking for strategies to walk this tightrope- we can help!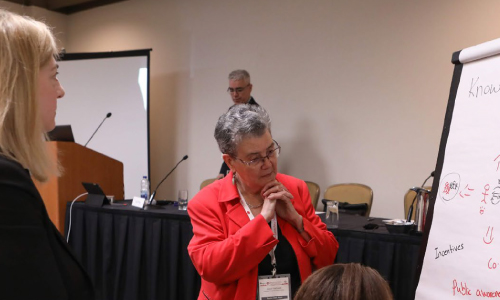 HOW TO BECOME A SCIENCE ENTREPRENEUR
Did you know, Canada is among the top 2 countries for early stage entrepreneurship activity among the G-7 nations? And that the highest percentage of Canadian entrepreneurs are between ages 18 to 34?
If you have an innovative idea related to science and technology, but don't know how to start with turning it into a business, this workshop is for you!