COVID19 – Let's Not Forget the Humans
International Institute for Applied Systems Analysis
External Relations Manager, Communications and External Relations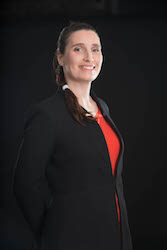 Disclaimer: The French version of this editorial has been auto-translated and has not been approved by the author.
Version française suivante.
As Canadian expats in Austria, one of the things that has particularly struck my family and I is the orderliness with which the country is dealing with the pandemic. As quarantine policies were put into place, we saw panic toilet paper hoarding in other countries, but here in Austria people were (amazingly) compliant and seemed to obey instructions and timelines provided by the authorities. We never worried about our basic needs. Grocery stores were always well stocked, public transit was always there and on time – and masks were readily available when required as a physical barrier to protect others.
Expert opinions, governments, and publics are making it clear that there is no one-size-fits-all solution to this pandemic. What works in Austria might not work for South Korea; and likely not even in other parts of Europe. Consider the Canadian landscape. There is huge variation in sociopolitical and cultural dynamics between and within provinces and territories. What works for some parts of Canada (virtual homeschooling, grocery shopping) is impossible for others (Canada's North). Cultural norms (multigenerational living, child/elder care) vary across the vast landscape. The "At Home on the Land" initiative – aimed at the particular needs of Indigenous communities is an example of a culturally-grounded way to address the pandemic. Finding solutions isn't always as intuitive as we might like.
Humans tend to look for the easiest way out – we want simple solutions to complex problems. We don't seem to want to think about the problems, we want them to magically disappear. And thinking "outside of the box" isn't always appreciated. Hand washing, clean water and the advent of antibiotics have made enormous leaps in our ability to tackle public health outbreaks – significant results. Where the bubonic plague is estimated to have killed 30-60% of Europe's population in the Middle Ages, modern outbreaks are now quickly identified and contained (were you even aware of the 2017 outbreak of the bubonic plague in Madagascar?). Understanding transmission routes has significantly impacted public health outcomes. The identification of tainted water as a vector for cholera transmission by John Snow led to the advent of modern epidemiology. But, as we find solutions to larger challenges, those that remain are more complex with increasing numbers of variables making solutions harder to come by.
There is some global agreement: lots of testing, quick results/containment, use of masks/physical barriers for community protection, social distancing, data collection. However, certain measures work better in some jurisdictions than others. What policies and practices are working and why are they working in these contexts? What is applicable in different contexts?
Our current global situation has reminded me of a presentation I saw on the 2014 Ebola outbreak (Professor Melissa Leach, IDS), and how important it is to remember the human factor in crises. She discussed how the key elements that made the Ebola pandemic so persistent – despite the best efforts of global public health engagement – was due to a failure to understand how historic context, trust, cultural dynamics played into the spread of the virus. Those providing interventions did not appreciate how historic context (i.e. post-colonialism, slavery, medical testing scandals) and mistrust in the intentions of Western interventions factored into the willingness of the local population to accept the solutions provided. Awareness of social structures, influencers and leaders, and co-creation were also important to developing solutions that would be adopted by affected communities.
Evidence is more than the numbers of tests, infections, and deaths. It is understanding the social context of communities, society writ large, and how they interact within and between. It's about understanding historical context and how it feeds into local culture, social interactions, and trust relationships. It's about community dynamics, power struggles, and the struggle for some to meet basic survival needs. It's about the timing of decision-making, political landscapes, and different ways of leading. As with many of our global challenges, it's a complex and multifaceted systems problem – in which the human factor is a huge driver.
As we strive for solutions to this global crisis – bring on innovation, research, and science funding. We will need these – but please, also bring along those who study the complexity that is humanity: epidemiologists, anthropologists, economists, ethicists, political scientists, sociologists, futurists, etc. In an era where evidence is being questioned, fake news is rampant and anti-science sentiments are strong, it is crucial that we remember that one piece to engaging with this and the world's other wicked problems is our relationships with our communities – the ones we are trying to protect. Public trust, built on understanding of the importance of human dynamics is key to broad acceptance and uptake. Solutions need to be palatable to society, or they won't be adopted.
As we focus on the virus, let's not forget the humans.
This article gives the views of the author, and not the position of the International Institute for Applied Systems Analysis
COVID19 – N'oublions pas les humains
En tant qu'expatriés canadiens en Autriche, l'une des choses qui nous a particulièrement frappés, ma famille et moi, est l'ordre avec lequel le pays fait à face à la pandémie. Au fur et à mesure que des politiques de quarantaine furent mises en place et que dans d'autres pays on s'arrachait le papier de toilette, ici en Autriche, les gens (étonnamment) semblaient obéir à la lettre aux règles et instructions des autorités. Au cours du confinement, nous ne nous sommes jamais inquiétés de manquer de produits de base. Les épiceries étaient toujours bien approvisionnées, les transports en commun toujours à l'heure et des masques étaient disponibles en quantité suffisante.
Les experts, les gouvernements et le public semblent clairement indiquer qu'il n'y a pas de solution unique à cette pandémie. Ce qui fonctionne en Autriche n'est peut-être pas ce qui a fonctionné en Corée du Sud et probablement pas que ce qui fonctionne dans d'autres parties de l'Europe. Également, si l'on regarde le paysage canadien, on s'aperçoit qu'il existe d'énormes variations dans les dynamiques sociopolitiques et culturelles entre les provinces et les territoires et à l'intérieur de ceux-ci. Ce qui fonctionne dans certaines régions du Canada (enseignement virtuel, épicerie en ligne) est extrêmement difficile pour d'autres (Nord canadien p. ex.). Les normes culturelles (cohabitations multigénérationnelles, soins aux enfants et aux personnes âgées) varient à travers le pays. L'initiative « At Home on the Land initiative » (Chez soi sur la terre) qui vise les besoins particuliers des communautés autochtones est un exemple d'une façon culturellement fondée de lutter contre la pandémie. Trouver des solutions n'est pas toujours aussi intuitif que nous le souhaiterions.
Les humains ont tendance à chercher la solution la plus simple à des problèmes complexes. Nous ne semblons pas vouloir penser aux problèmes et voulons qu'ils disparaissent comme par magie. Et penser « hors des sentiers battus » n'est pas toujours apprécié. L'accessibilité à l'eau potable, l'avènement des antibiotiques et l'habitude de se laver les mains ont fait d'énormes progrès et donné des résultats significatifs dans notre capacité à lutter contre les épidémies de santé publique. Alors que la peste bubonique aurait tué 30 à 60% de la population européenne au Moyen ge, les épidémies modernes sont désormais rapidement identifiées et maîtrisées (étiez-vous même au courant de l'épidémie de 2017 à Madagascar?). La compréhension des voies de transmission a eu un impact significatif sur les résultats de santé publique. L'identification de l'eau contaminée comme vecteur de transmission du choléra par John Snow a conduit à l'avènement de l'épidémiologie moderne. Mais, comme nous trouvons des solutions à des défis plus importants, ceux qui restent sont plus complexes avec un nombre croissant de variables rendant les solutions plus difficiles à trouver.
Il existe un consensus mondial : nombre élevé de tests et de résultats, confinements rapides, utilisation de masques et de barrières physiques pour la protection de la communauté, distanciation sociale, collecte de données. Cependant, certaines mesures fonctionnent mieux dans certaines juridictions que dans d'autres. Quelles politiques et pratiques fonctionnent et pourquoi fonctionnent-elles dans ces contextes? Qu'est-ce qui est applicable dans différents contextes?
Notre situation mondiale actuelle m'a rappelé une présentation que j'ai vue sur l'épidémie d'Ebola de 2014 (professeur Melissa Leach, IDS) qui indiquait combien il est important de se souvenir du facteur humain dans les crises. Elle expliquait que les éléments clés qui ont rendu la pandémie d'Ebola si persistante (malgré les meilleurs efforts de l'engagement mondial en faveur de la santé publique) ont été l'incapacité à comprendre comment le contexte historique, la confiance et la dynamique culturelle ont joué dans la propagation du virus. Les intervenants n'ont pas compris la façon dont le contexte historique (c'est-à-dire le post-colonialisme, l'esclavage, les scandales des tests médicaux) et la méfiance à l'égard des intentions des interventions occidentales a teinté la volonté de la population locale d'accepter les solutions proposées. La connaissance des structures sociales, des influenceurs et des leaders était importante pour développer en partenariat des solutions qui seraient adoptées par les communautés affectées.
Les preuves sont plus que le nombre de tests, d'infections et de décès. Il s'agit de comprendre le contexte social des communautés, la société dans son ensemble ainsi que la façon dont elles interagissent à l'intérieur d'elles-mêmes et entre elles. Il s'agit de comprendre le contexte historique et la manière dont il se nourrit de la culture locale, des interactions sociales et des relations de confiance. Il s'agit de la dynamique communautaire, des luttes de pouvoir et de la lutte de certains pour répondre aux besoins de survie de base. Il s'agit du timing de la prise de décision, des paysages politiques et des différentes manières de diriger. Comme pour bon nombre de nos défis mondiaux, il s'agit d'un problème de système complexe et multiforme dans lequel le facteur humain est un facteur déterminant.
Alors que nous nous efforçons de trouver des solutions à cette crise mondiale, il est évident que l'innovation, la recherche et le financement scientifiques sont importants. Cependant, n'oublions pas de mettre à contribution ceux qui étudient la complexité de l'humanité : épidémiologistes, anthropologues, économistes, éthiciens, politologues, sociologues, futuristes, etc. À une époque où les faits sont remis en question, les fausses nouvelles sont omniprésentes et les sentiments anti-scientifiques sont forts, il est crucial que nous nous souvenions que la relation avec nos communautés (celles que nous essayons de protéger) est un élément essentiel pour nous attaquer à ce problème et aux autres graves problèmes du monde. La confiance du public, fondée sur la compréhension de l'importance de la dynamique humaine, est la clé d'une large acceptation. Les solutions doivent être perçues comme raisonnables pour la société afin qu'elles soient adoptées.
Alors que nous nous concentrons sur le virus, n'oublions pas les humains.
Cet article donne le point de vue de l'auteur et non la position de l'Institut International pour l'Analyse des Systèmes Appliqués.