Inclusive Innovation Key to Unlocking Full Potential of Canada's Innovation Ecosystem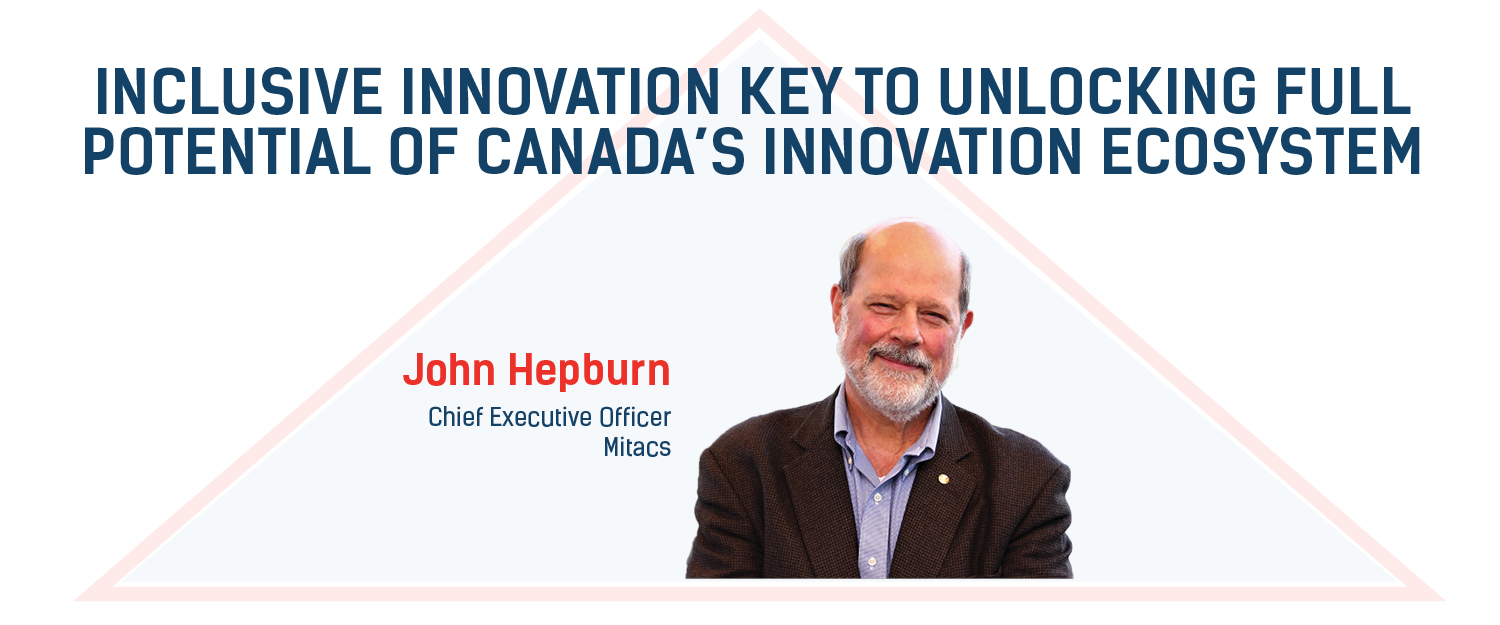 Today, more than ever before, Canada needs to draw on the ingenuity and creativity of our greatest strength — our people — to drive innovation and economic growth. The importance of inclusive innovation can be simply but powerfully stated: diverse teams are more likely to outperform teams lacking diversity, even if members of the less diverse group are individually more highly skilled. Inclusivity helps broaden the impact of innovation — we want our input to be more diverse to improve our innovations, but we also want the output of innovation to be more diverse to better serve more people. 
It goes even further: when compared to their counterparts, diverse and inclusive organizations are 87% more likely to make better decisions (Korn Ferry Research, 2021) and 75% faster at bringing products to market (Center for Talent Innovation, 2021). Additionally, a 2017 study by the Boston Consulting Group (BCG) found that companies with more diverse management teams experienced higher revenue from new products and services. Diversity brings different perspectives, creativity, and thinking to a challenge and, ultimately, this translates into greater innovation and the creation of a larger talent pool for the innovation economy. The innovation economy is driven by talent; we can't afford to exclude people from this economy.
What, then, can companies do to unlock the full potential of inclusive innovation in their organizations?
Remove barriers to access
A key first step is recognizing that barriers to access across the innovation ecosystem result in significant  systemic marginalization of underrepresented groups. Removing barriers, which are often unintentional and hard to recognize, will allow organizations to unleash the extraordinary creativity, ingenuity, and capacity of those whose lived experience offers diverse ways of knowing and being in the world. Indeed, mobilizing inclusivity is vital to ensuring that innovation not only addresses economic impact but, crucially, addresses inequities across Canadian society. 
Barriers to access include gaps in educational attainment, where under-represented groups tend to have lower rates of higher education, difficulty accessing funding from traditional financial institutions, and experience the effects of unconscious bias and discrimination — including hiring bias, systemic and stereotypical attitudes, physical inaccessibility, and prejudice and discrimination in both education and the workforce. These inequalities undermine innovation by preventing the development and effective use of skills, knowledge, and creativity.
Implement an Equity, Diversity and Inclusion (EDI) strategy
Inclusive innovation cannot truly be achieved until an organization makes a conscious effort to prioritize equity, diversity, and inclusion in everything they do. This means acknowledging the existence of systemic barriers and power imbalances related to privilege, continually seeking to learn, reflect, and act to meet the needs of all employees and stakeholders, recognizing the complexities of the relationship between Indigenous and non-Indigenous peoples and striving to engage with Indigenous peoples in a non-colonial, respectful manner, and working to ensure equitable access to opportunities while building meaningful relationships with Indigenous partners. 
At Mitacs, we have taken important steps towards inclusive innovation through our commitment to an ambitious EDI strategy and policy as a core value of our organization, and most recently, through the creation and hiring of a new senior role, VP Equity, Diversity, and Inclusion.
Encourage work-integrated learning for all
One of the ways an organization can attract diverse talent is by creating awareness of the opportunities and support that are available to all post-secondary students and recent graduates. It will be crucial for companies to make these connections if they are going to solve their most pressing innovation and business challenges. This is where an organization like Mitacs plays an important role. As a national not-for-profit that designs and delivers innovation partnerships and training programs focused on innovation, Mitacs works directly with organizations, connecting them with post-secondary research across all disciplines in order to fill the gap between business innovation and skilled talent.
Through the innovation partnerships created by Mitacs, students can apply what they've learned in a variety of settings to real-world business or community organizations. Students like Lia Fabre-Dimsdale, who, through an internship at Atomic Cartoons, gained experience as an animator. Fabre-Dimsdale, a member of the Liidlii Kue First Nation, was offered the opportunity to participate in Mitacs's Business Strategy Internship program by one of her professors. She is now working on the animated children's series, Molly of Denali. Her internship was facilitated by Mitacs's Indigenous call, which offers additional benefits for Indigenous-owned companies to hire interns or for companies that hire Indigenous interns.
Mitacs recognizes that barriers to access across the innovation ecosystem result in significant systemic marginalization of under-represented groups. By investing in talent within under-represented communities and removing systemic barriers that prevent these groups from taking an active role in driving innovation, all of Canada will benefit.