Day 2: November 14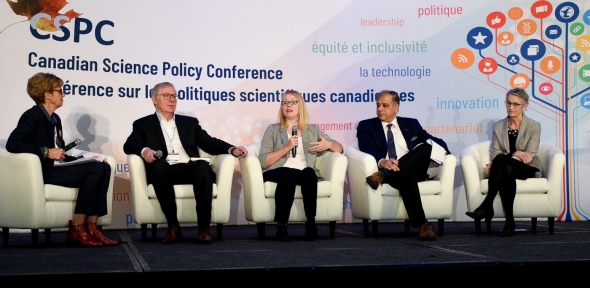 Day 2 – November 14th 2019
Takeaways and recommendations: 
Data for Impact: How Trusted Partners Can Advance Canada's Digital Transformation
Organized by: Simon Fraser University
Speakers: Carolyn Watters, Vice-President and Chief Digital Research Officer, National Research Council of Canada; Len Garis, Adjunct Professor in the School of Criminology and Criminal Justice & Associate to the Centre for Social Research at the University of the Fraser Valley; Anil Arora, Chief Statistician of Canada; Luba Petersen, Associate Professor of Economics, Simon Fraser University
Moderator: Joy Johnson, Vice-President Research and International, Simon Fraser University
Takeaways:
Canada's Digital Charter aims to guide policy development with 10 overriding principles (e.g., access, security, consent, transparency and value to society).
Successful partnerships need to be open and transparent, and based on trust, common goals, shared values and a clear value proposition (for citizens, companies and Canada).
Working with a credible and trusted partner who can manage privacy is paramount.
The Bank of Canada is creating more accurate datasets with gaming-like environments called "laboratory economies" to understand how people respond to different economic policies.
Including social data helps to better understand problems at the community level, which results in more focused policies and programming.
Statistics Canada aims to build trust and credibility through its use of the "Five Safes" model – a framework to ensure data are only provided if certain conditions are met.
It is important to have trusted datasets that represent all Canadians (e.g., lower-income, remote and Indigenous communities), and take into account different types of data (e.g., Two-Eyed Seeing).
Informed consent to use data is not always possible (e.g., Long Form Census) to ensure data are representative.
Suggested Actions:
Listen to partners. What users need will drive what value is derived from the data.
Build trust with partners through the co-design and co-use of data, and by demonstrating the value of the data.
More work is needed to evaluate the different levels of security needed for virtual data. (Statistics Canada is currently working on a virtual data shared risk model in partnership with Canada Mortgage and Housing Corporation and Canadian Data Research Network).
Data management policies need to incorporate principles of ethical and responsible use of data (e.g., Toronto Declaration related to human rights and machine learning, and the Montréal Declaration for Responsible Development of Artificial Intelligence)
Trading privacy for the public good (e.g., saving lives) is a conversation that still needs to happen.
Day 2 – November 14th 2019
Takeaways and recommendations: 
A Conversation with Dr. Mona Nemer, Canada's Chief Science Advisor 
Canada has come a long way in strengthening science advice to government, but more needs to be done. That was one of the main takeaways CSPC delegates heard from Canada's Chief Science Advisor (CSA) Dr. Mona Nemer.
Since her appointment to this new position two years ago, Nemer has worked with colleagues both within and outside of government to improve the linkages between science advice and decision making. Getting there has required "building bridges and building trust", particularly with science-based departments and agencies.
While Canada isn't starting from scratch, it is playing catch up with other countries that have established science advice structures, including networks of science advisors.
"Over the last year we considered various science advice systems around world and the needs of Canada and the government of Canada," said Nemer. "It was my recommendation that we create a network of science advisors."
Her advice was accepted and today Canada has science advisors in the Health Canada, Environment Canada and Climate Change, Natural Resources Canada, as well as the Canadian Space Agency and National Research Council. Science advisors are also expected soon at Fisheries and Oceans and other departments.
Nemer's office has focused on five priority areas: science integrity and open science; science advice; science coordination; science promotion; and science diplomacy.
One key activity saw the CSA working with the Treasury Board Secretariat and the Professional Institute of the Public Service of Canada to develop a Model Policy on Scientific Integrity, which all government departments implemented this year.
"This was my number one priority: to ensure that science is open and scientists can speak about their work," Nemer told CSPC delegates.
In response to the recent federal election, CSPC CEO Mehrdad Hariri asked whether the CSA's advice will be requested as often under a minority government. Nemer responded: "My position is not partisan and should remain this way. Governments, whether majority or minority, need to enact legislation and make decisions and we all hope this will be grounded in science and evidence."
On the issue of open science, Nemer said her office is finalizing a Roadmap for Open Science, developed in cooperation with federal science departments and agencies, to ensure greater openness in federal science and research activities.
"Our aim is to have science open but we (as a country) didn't provide the tools or the support for our researchers to comply (with new requirements)," said Nemer. "My view is that we need to have a harmonized policy both for research that's conducted outside of government and one for inside government."
Building public trust
Nemer's office is part of an increasingly collaborative, integrated and coordinated science ecosystem in Canada. This includes the Canada Research Coordinating Committee which is coordinating science across different disciplines and agencies. Nemer also participates in the recently formalized Deputy Minister Science Committee, which she said provides valuable insight on what is happening in government science, as well as opportunities to forge links between government and academia.
These closer linkages led to the formation of a science coordinating committee for climate change, co-chaired by Nemer and Stephen Lucas, former DM at Environment and Climate Change Canada, which resulted in new joint funding programs between some government departments and the Natural Sciences and Engineering Research Council.
"My dream is that we stop talking about where science is being conducted in Canada, and embrace the notion of one science for Canada … that is for one purpose which is to advance knowledge and the socioeconomic conditions of every Canadian, and advance the bettering of the world," she said.
Another priority has been to ensure that the CSA office continues, regardless of what political party is in power. At a time when science the world over has become more politicized and increasingly subject to public skepticism, she said: "Now, more than ever before, it's our collective responsibility to ensure that the position of Chief Science Advisor remains for the good of the country … I'm more committed than ever to making sure that this office is going to be a fixture in the Canadian landscape."
Building public trust will continue to be a priority for the CSA. For scientists, Nemer said this means working even harder to explain how science and technology – even disruptive technologies like artificial intelligence (AI) – can be applied to address economic and societal problems.
"This assumes that scientists are speaking not only to other scientists but to the public. It assumes we're engaging in a dialogue with the public … that we're listening and understanding their concerns and trying to explain the knowledge and science in simple terms that they can relate to."
On the issue of AI, the government has established an advisory committee that includes Nemer, as well as representatives from academia and the private sector, including legal scholars, ethicists and technical experts. For any strategy to be successful, however, Nemer stressed it must include "constructive and serious dialogue" with Canadians in their communities.
"We have a collective responsibility to look beyond our labs and experiments to engage in public dialogue."
Day 2 – November 14th 2019
Takeaways and recommendations: 
Canada's Future in Physics and Space Exploration 
Keynote speaker: Her Excellency the Right Honourable Julie Payette, Governor General of Canada
Speakers: Donna Strickland, Professor, Department of Physics & Astronomy, University of Waterloo Nobel Laureate, Physics 2018; Avery Broderick, Delaney Family John Archibald Wheeler Chair at Perimeter Institute for Theoretical Physics and associate professor at the University of Waterloo
Moderator: Janet E. Halliwell, Chair, Board of Directors, Canadian Science Policy Centre
Canada's continued success in science depends on promoting it more
Canada's excellence in science didn't happen by accident.
It's no accident that Canada continues to account for nearly 4% of peer-reviewed research publications globally, despite representing just 2% of global GDP and .5% of the world's population. It's also no accident, as a 2018 Canadian Council of Academies report survey found, that 60% of top-cited researchers around the world reported that Canada is home to "world-leading infrastructure or programs".
"We are a shining beacon of scientific excellence across the world," said Avery Broderick, the University of Waterloo astrophysicist who was part of a historical international collaboration that proved the existence of black holes. "This doesn't happen by accident. It's because people make decisions about what to support, about what to invest in, and those decisions are more important now than ever,"
Broderick, whose discovery won the 2020 Breakthrough Prize in Fundamental Physics, shared the stage at this year's CSPC Gala with two other Canadian science stars: University of Waterloo physicist and 2018 Nobel Prize winner Donna Strickland and Her Excellency the Right Honourable Julie Payette, Governor General of Canada.
Canada has a long history of investing in fundamental research, including physics and astronomy. We are a partner in the Event Horizon Telescope that led to the black hole discovery. Canada also supported the Sudbury Neutrino Observatory Laboratory which contributed to Arthur McDonald sharing the 2015 Nobel Prize in Physics for his pioneering neutrino research at the SNOLAB.
Moderator Janet Halliwell recalled "working in the backrooms to try to get original funding for SNO through in the late 80s". She said that funding, and Canada luring Arthur McDonald back to Canada from Princeton University in the U.S., were pivotal in fostering Canadian science excellence.
Big projects, top talent and collaboration
Another contributor to Canada's scientific successes has been its ability to attract top talent from around the world, said Strickland, who helped pioneer lasers that create extremely fast pulses of light for a variety of applications.
"If you're going to try to attract the top talent you must put out big projects to attract them. If we welcome the world and invest, and use entrepreneurship and sound science policy, we can be as successful as Silicon Valley," she told CSPC delegates.
Big projects, funding and infrastructure are important, but Broderick said the success of the Event Horizon Telescope project is "an example of what can be accomplished when you have a very diverse group of people, diverse both globally and culturally".
Broderick, who left the U.S. more than a decade ago to do research at the University of Waterloo, said Canada's openness and diversity are "a shining example of Canadian culture. As an American I look at us being in this very pluralistic and supportive society."
Another strength is the ability of our scientists and institutions to work collaboratively with international partners. "We're a group of people that really like other people and our ability to fit into teams is something we should be very proud of," the Governor General said.
The importance of role models
Inspiring young people to consider a career in science is critical for any innovation-minded nation. This starts with Canada doing a better job at celebrating both its scientists and its scientific successes.
"We celebrate artists, musicians, actors, rock stars, yet we sometimes forget to celebrate the extraordinary achievements that people do with their brains and heir innovative spirits," the Governor General told delegates. For example, she said "Canada got it right" when it included Canada's name and the maple leaf four times on Canadarm2 so it could be seen from every angle.
When Canadians are celebrated, you get responses like what McMaster University has described as the "Donna effect". Since Strickland – a McMaster engineering alumnus – became the third woman in history to win the coveted physics prize, administrators at the university reported seeing a 47% increase in enrolment this year in engineering physics.
"Twice as many women applied to go into engineering and physics this year than ever before," said Strickland.
The Governor General said scientists have a responsibility to engagement more with the public, to promote the value of science and to inspire the next generation to consider careers in science, technology, engineering and mathematics (STEM) disciplines.
"We should all, every single one of use, once a year, for one hour, go to a school and speak about why you're passionate about what you do," said Her Excellency, who continues to share her stories as a space traveller with students. "There will be someone somewhere that you produce a spark with because of what you said."
Fighting back against science skepticism
All speakers agreed that scientists also have a responsibility to counter the growing tide of misinformation and distrust of science by speaking publicly about the value of their work in language that all Canadians can understand. Strickland warned that the consequences of not doing that can be long-lasting.
She pointed to the Golden Age of Islam, a period of cultural, economic and scientific flourishing between the 8th and 14th centuries that experienced a significantly decline in subsequent centuries. She cautioned that the western world may be on "this same slippery slope".
"Science should never be a belief. Science is data and science is what we know today," says Strickland. "I'm worried that we're becoming the people to not be believed anymore and as an elite group they're all skeptical of us and that's a big danger going forward."
Broderick agreed: "It's possible for societies to walk back. Progress is not assured."
The solution, he stressed, is better communication. "Get out there in front of the public and remind them why we do what we do … there are benefits far beyond bringing home prizes and recognition, such as making our modern way of life possible."
Day 3: November 15
Day 3 – November 15th 2019
Takeaways and recommendations: 
Short Talk Series 
Short Talk #1: Translating Research to Impact Policy – Our Journey in Concussion Policy in Canada
Speakers: Sandhya Mylabathula, PhD Candidate, Faculty of Kinesiology and Physical Education; returning CIHR Fellow in Public Health Policy, University of Toronto; and Science communicator; Swapna, MD/PhD Candidate at the University of Toronto, McLaughlin Scholar, and Science Communicator.
Takeaways:
Sandhya and Swapna co-developed a Pan-Canadian Concussion Strategy, presented recommendations to Parliament in 2019 related to a private members bill,  Bill C-566 (An Act Respecting a Comprehensive Pan-Canadian Strategy on Concussion), and worked on research to inform new concussion legislation in Ontario, Rowan's Law.
Science policies provide the evidence-based resources, programming and tools to respond to a particular challenge like concussions.
Be a champion and be patient; building policies and implementing laws can take years.
Engage with stakeholders when identifying research and policy gaps (e.g., people with concussions, medical professionals, academics).
Influencing policy starts with finding your passion (e.g., effect of concussions on hockey players), then following up with action (e.g., engaging with people affected by concussion, as well as policymakers, politicians and the media), and fueling your passion about the issue with others (e.g., outreach to youth, academia through TEDx talks, Let's Talk Science, Instagram, conferences).
Short Talk #2: Mobilizing Change from Within: A Case Study on Gender Equity and Internal Research Funding
Speaker: Elizabeth Russell-Minda, Research Development Officer, Western University
Takeaways:
Equity, diversity and inclusion (EDI) data can be used to inform internal research funding practices (internal case study on Western Strategic Support for Tri-Council Success program)
Promising EDI data collection models are available:

Canada Research Chairs requires universities to implement action plans to ensure EDI targets are being met.
Each Tri-council agency has EDI statements, data collection methods, and practices embedded in their programs.
The federal New Frontiers in Research Fund has embedded EDI sections within its proposal requirements.

What are the gaps in knowledge and practice?

Aside from Tri-council requirements, universities are not obligated to track EDI data for their internal research funding programs.
University research offices are often not equipped to track and analyse the data.
Most EDI data are based on self-report surveys and not standardized.

Her case study identified how university research offices can reform internal processes to improve EDI in research funding:

Implement consistent methods of surveys and data collection.
Encourage and conduct ongoing evaluations.
Adopt Terms of Reference for internal review committees that include EDI.
Short Talk #3: Global Governance and Emerging 'High-Risk' Technologies
Speaker: Nathan Alexander Sears, PhD Candidate in Political Science, University of Toronto
Takeaways:
Geopolitics shapes what technologies are produced, how they are applied and towards what ends (e.g., nuclear weapons)
In the absence of strong global governance, power politics may be the dominant global political force to intervene in humanity's technological futures.
Messages for scientists:

Science and technology are not inherently "good" or "progressive" forces
Scientists are political actors; the "laboratory" is not exogenous to geopolitics
Be cognizant of worse-case thinking: what would Machiavelli do with this technology?
Align research incentives with ethical concerns about existential risks

Messages for policymakers:

Emerging technologies are inherently foreign policy issues because of the global impacts of science and technology
"No foreign policy" is a "bad foreign policy"
Governments must seek to close the growing global governance gap on emerging technology
There is an immediate need for global governance frameworks on geo-engineering, gene-editing and artificial intelligence
Short Talk #4: Wikipedia Editing & Edit-A-Thons: A Form of Science Advocacy
Speaker: Farah Qaiser, Graduate Student, University of Toronto; President, Toronto Science Policy Network
Takeaways:
As the fifth most popular website in the world, Wikipedia provides a valuable opportunity for all scientists to participate in science advocacy by sharing their expertise through editing.
Who edits Wikipedia – and the biases they carry with them – matters:

84% of editors are male
76% of editors edit English Wikipedia, but only ~49% of visitors read English Wikipedia
Most editors come from the North America and Europe (U.S. represents 20%)

Only 18% of pages on Wikipedia English biographies are about women.
Editing Wikipedia provides an opportunity to make science more open and accessible to the public, as well as policy and decision makers.
Groups like Wiki Loves Scientists and Wikipedia Women in Red are addressing this challenge from a science and gender perspective, respectively.
Several Canadian organizations have held Wikipedia Edit-a-thons in the past year, including the Toronto Science Policy Network, York University, Ingenium: Canada's Museums of Science and Innovation, and the Science & Policy Exchange.
Short Talk #5: Journal of Science Policy and Governance: Engaging Students and Early Career Researchers in Science and Technology Policy
Speaker: Jean-Christophe Mauduit, Lecturer in Science Diplomacy, University College London & Director of International Engagement, Journal of Science Policy & Governance
Takeaways:
The Journal of Science Policy and Governance (JSPG) is a volunteer-based, non-profit organization and interdisciplinary peer-reviewed publication managed by and for students, postdocs, policy fellows and early career researchers (ECRs) up to three years of their graduation.
JSPG helps students, policy fellows, and ECRs of all academic backgrounds bolster their policy research, writing skills & credentials.
It encourages them to contribute to policy debates at the local, state, federal, and global levels by publishing op-eds, policy memos, policy analyses, technology assessments, book reviews, workshop reports, etc.
It serves as an accessible, independent, and open source forum for science, technology & innovation policy and diplomacy scholarship.
 JSPG has two calls for papers every year for its standard editions (in 2020, on 31st of May and 15th November) and several open calls for special issues with partner organizations.
JSPG's efforts are global and the Journal is always actively seeking international partners, collaborators and welcomes sponsorships of its publications. This year JSPG and Canadian Science Policy Conference collaborated on Volume 15, which can be found here.
Graduate students, policy fellows and young scholars (up to three years from graduating) can volunteer as associate editors, providing them with valuable policy knowledge, editing skills and insights into the publishing process. This experience enhances their own changes for publication in top-tier journals later in their careers.
 Subscribe to JSPG's mailing list to stay abreast of opportunities to engage with the journal as well as calls for papers and other announcements. The journal is active on Twitter and can be followed at @SciPolJournal.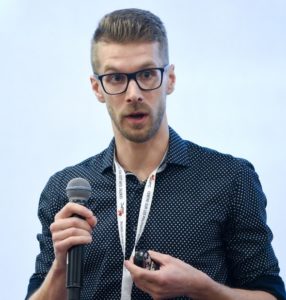 Day 3 – November 15th 2019
Takeaways and recommendations: 
Building collaborative opportunities with federal science 
Organized by: Public Services and Procurement Canada
Speakers: Kim Juniper, Chief Scientist, Executive, Ocean Networks Canada; Janet King, Associate Deputy Minister, Public Services and Procurement Canada; Kate Moran, President and CEO, Ocean Networks Canada; Iain Stewart, President, National Research Council
Moderator: Marie-Anick Maille
Takeaways:
Budget 2018's historic $2.8-billion investment in federal labs is creating opportunities to advance and enable collaboration within government and with external partners.
Science-based departments and agencies are working together to co-develop science plans based on shared objectives, priorities and outcomes.
Other longstanding barriers to collaboration are being addressed, including: security rules that restrict access to facilities; and financial constraints.
Promoting collaboration by listing government science facilities and equipment on the Canada Foundation for Innovation's Research Facilities Navigator online platform.
The University of Victoria's Ocean Networks Canada has created opportunities for government, industry, communities and other partners to utilize its ocean observing infrastructure by having:

A broad disciplinary base which provides more opportunities to develop partnerships
A data management system (Oceans 2.0) capable of producing data products that support partner needs
A flexible and entrepreneurial culture
A commitment to community-level Indigenous engagement

Natural Resources Canada and the Fisheries and Oceans Canada involvement in the initial design of the observation system supported the basic research they needed to fulfill their mandates (e.g., monitoring Marine Protected Areas).
The National Research Council (NRC) is a highly collaborative organization with nearly 1,000 R&D clients (federal and provincial governments, universities and colleges, hospitals, not-for-profits, companies, international partners).
Increased funding in Budget 2018 is enabling the NRC to build multidisciplinary, multisector teams for new shared, collaborative research spaces.
Actions:
Leverage the whole research ecosystem to enable resource and data sharing, improved access between scientists, and better engagement with external partners and stakeholders.
Collaboration is driven by strong principles: science excellence first; building collaborative spaces; and making those collaborative spaces more available to partners.
Allowing government scientists to become adjunct professors strengthens linkages between government and academia.
Keeping new collaborations small, flexible and more informal allows relationships to build over time.
Day 3 – November 15th 2019
Takeaways and recommendations: 
Luncheon speakers: Canada and South Africa on science and public policy
Speakers: Simon Kennedy, Deputy Minister, Innovation, Science and Economic Development; Daan du Toit, Deputy Director-General, International Cooperation and Resources, Department of Science and Innovation (DSI), Republic of South Africa
Takeaways: Simon Kennedy
Main public policy challenges facing science in Canada:
Knowledge translation and commercialization: How to improve Canada's ability to turn research into services, products and solutions. (e.g., majority of machine learning-related patents developed in Canada over the past decade are now held by foreign companies. That is a concern in an economy that is increasingly based on intangible assets.)
Challenges are increasingly interdisciplinary: Issues like pharmaceuticals and microplastics in our water involve both Environment and Climate Change Canada and Health Canada, as well as other disciplines such as social sciences.
Diversity in science: Taking diversity into account to achieve research excellence is not solely a social justice issue – it also about generating better science (e.g., clinical trials that don't consider the different physiologies of men and women produce less effective drugs)
International research collaborations: Challenges like climate change and antimicrobial resistance cut across borders, and have profound ethical issues. Canada needs to be at the table when global rules are being set.
Takeaways: Daan du Toit
Canada's International Development Research Centre provided significant input into the formulation of the first South African White Paper on Science and Technology in 1996, shifting from a science policy focused on military aggression under the apartheid regime to one focused on growth, development, peace and reconciliation for all South Africans.
South Africa has adopted several research and innovation models from Canada, including R&D tax incentives, research chairs and centres of excellence. Canada also contributed significant funding to the pan-African network, the African Institute for Mathematical Sciences – a pan-African partnership that provides mathematics training to African post-graduate students.
Canadian science is also a crucial partner for the global Square Kilometre Array (SKA) radio telescope project, to be hosted in South Africa and Australia, and a flagship for South African science.
In March 2019, South Africa's Department of Science and Innovation (DSI) released a new White Paper on Science, Technology and Innovation, which focuses on harnessing innovation to address socio-economic challenges facing the country as well as growing South Africa's science base.
Canada and South Africa continue to have strong science policy linkages. On Nov. 14, 2019, the Innovation, Science and Economic Development Canada and the DSI signed a Memorandum of Understanding on science, technology and innovation focusing on: knowledge mobilization, science culture and literacy, open science/open data, and researcher mobility and exchange.
South Africa's DSI is working with Mitacs to develop a new program for researcher mobility and exchange between our two countries.