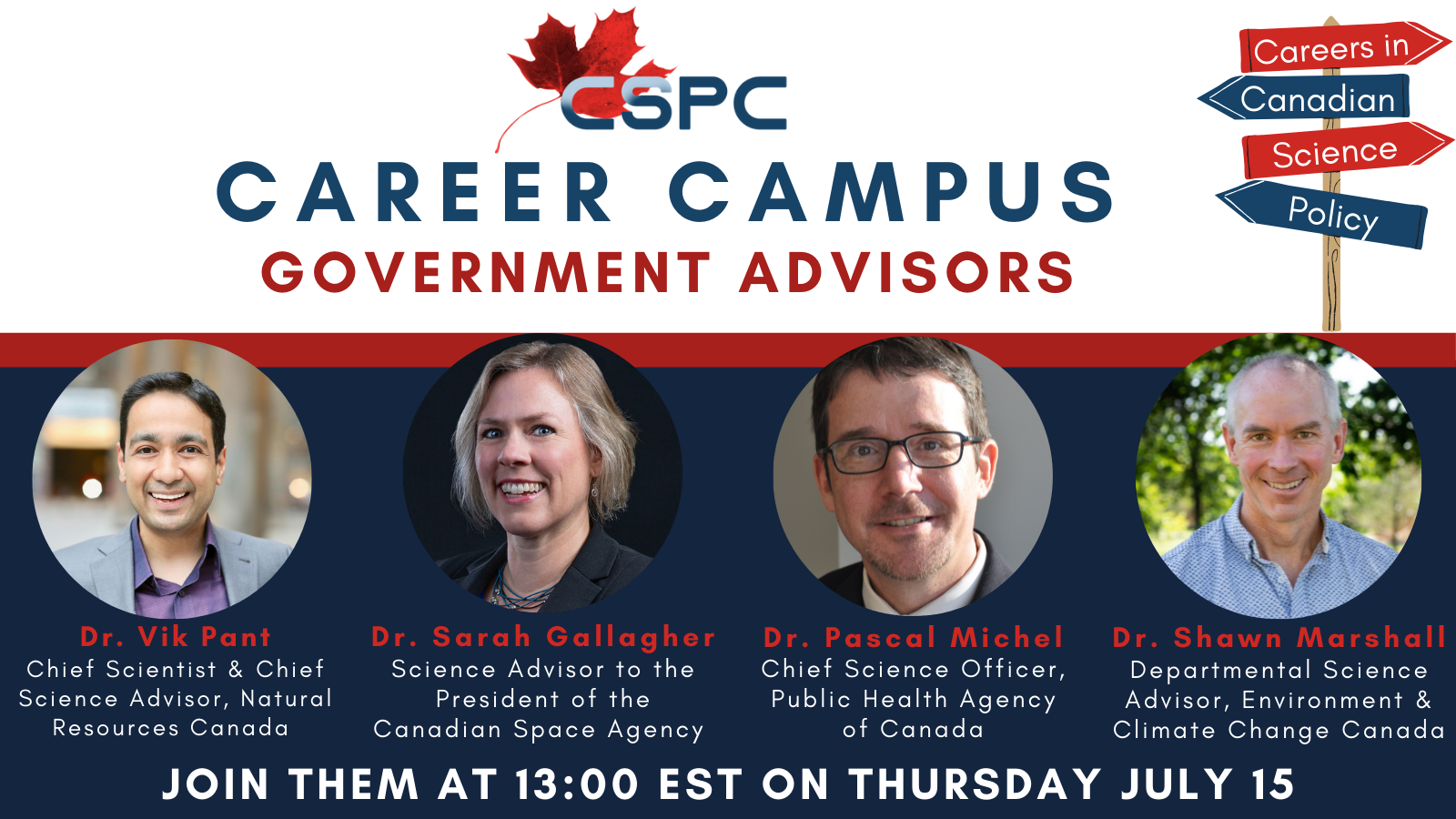 Career Campus: Government Advisors
Jul 15, 2021 @ 1:00 pm

-

2:30 pm

EDT
Dr. Sarah Gallagher
Professor, Physics and Astronomy, Western University
Science Advisor to the President of the Canadian Space Agency
Dr. Sarah  Gallagher is the Science Advisor to the President of the Canadian Space Agency where she is the liaison to the space science community and the Chief Science Advisor of Canada.  She has been a professor of physics and astronomy at Western University since 2008, and her research focuses on supermassive black holes and galaxies.  Dr. Gallagher teaches first-year physics and regularly talks to the public about astronomy and space science.
Dr. Pascal Michel
Chief Science Officer, Official languages champion, Office of the Chief Science Officer, Public Health Agency of Canada
Dr. Pascal Michel is the Chief Science Officer of the Public Health Agency of Canada. In this role, he is mainly responsible for overseeing and leading excellence and innovation in Agency science as well as to provide corporate leadership on science-policy issues.
Prior to his current responsibilities, Dr. Michel completed a doctoral degree in veterinary medicine (University of Montreal), a Master in Preventive Veterinary Medicine (University of California) and a Ph.D. in epidemiology (University of Guelph). He joined the federal public service in 1997 as a senior epidemiologist and then directed the Public Health Risk Sciences division of the National Microbiology Laboratory before serving as a senior science advisor to the Assistant Deputy Minister of the Infectious Disease Prevention and Control Branch.
Dr. Michel held various cross-appointments with the academia and developed a publications record as author and editor of many scientific communications along with strong collaborations across Canada and internationally. In that regard, he cofounded a multi-sectoral research centre on zoonotic diseases and decision sciences, and built long lasting relationships at the United Nations in relation to the role of space technologies to improve global health outcomes.
Dr. Vik Pant
Chief Scientist and Chief Science Advisor, Natural Resources Canada
Vik is responsible for providing strategic direction to build capacity within NRCan's scientific community, promoting a departmental vision for S&T and assessment of future needs. This involves leadership in developing and advancing S&T priorities, providing strategic policy advice on horizontal science issues and opportunities to ensure strong linkages between science and policy communities, and promoting effective engagement of S&T activities.
Vik earned a doctorate from the Faculty of Information (iSchool) in the University of Toronto, a master's degree in business administration with distinction from the University of London, and a master's degree in information technology from Harvard University, where he received the Dean's List Academic Achievement Award.
Vik joined NRCan from the MaRS Discovery District, a technology start-up accelerator in Toronto, where he was a Senior Technical Advisor of Applied Artificial Intelligence. Prior to that, he held progressively strategic positions in leading software enterprises including Oracle, SAP and Open Text.
Dr. Shawn Marshall
Professor, Department of Geography, University of Calgary
Departmental Science Advisor, Environment and Climate Change Canada
Shawn Marshall is a glaciologist and climatologist at the University of Calgary, where he held the Canada Research Chair in Climate Change from 2007-2017. His research examines glacier-climate processes and glacier response to climate change, including implications for water resources and global sea level rise. Dr. Marshall currently represents Canada as the Cryosphere Working Group lead to the International Arctic Science Committee and as a member of the Science Leadership Council of the international Mountain Research Initiative. Since 2019, Dr. Marshall has been seconded with the federal government, where he is serving as the Departmental Science Advisor at Environment and Climate Change Canada.