A Brewing Technological Cold War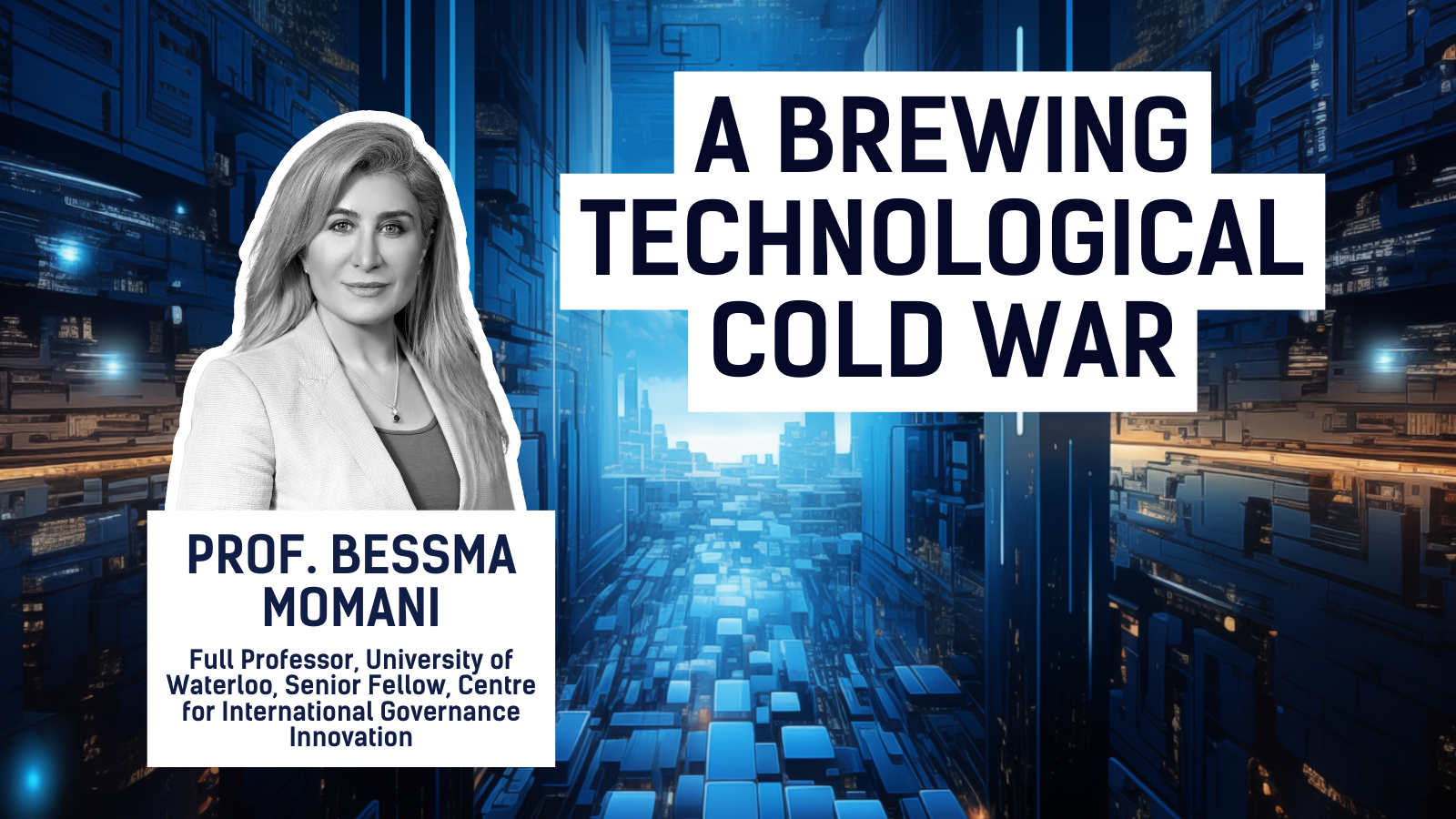 Centre for International Governance Innovation
Not since the Cold War between the United States and the Soviet Union have we seen this level of policy attention on the geopolitical impact of bilateral rivalries in science, technology, and innovation. Unfortunately, headwinds indicate that another Cold War between the United States and China is already here if not imminent. The effect this will have on Canada's science policy community is significant and the knock-on impacts on researchers in this space will cascade further with no clear floor to the bottom.
How we got to this moment is contested and has become a politicized narrative, but several structural factors stand out. COVID-19 brought significant economic disruptions to supply chains that challenged conventional thinking around just-in-time manufacturing and delivery. Vulnerabilities to domestic production from the shortages of input goods was striking and became a hot-button political issue, leading many countries and businesses to both question the logic of unfettered globalization and the resiliency of their suppliers. For example, we witnessed missing semiconductors in our automotive production, as well as competition over scarce protective personal equipment, vaccines, and medical supplies; these critical shortages had all started national conversations into how dependencies on other markets and countries had created new forms of vulnerabilities that are particularly exacerbated in fraught times.
Continued economic weaknesses in many parts of the world after a reopening from COVID-19 lockdowns had also opened new national policy debates about both the inherent risks found in interdependencies, particularly supply chains utilizing long-distance shipping routes, and the utility of industrial policy to reinvigorate national economies. Certainly, the rise of populist nationalist leaders across the world had also made it more palatable to talk about the prospects of fortifying countries' economies from external vulnerabilities and how globalization had created undue political influences into domestic affairs. Despite decades of the pursuit of engagement and free market fundamentals, new questions about how to ensure safe and stable supply of goods and services were being discussed in living rooms to corridors of government.
In reaction to sluggish economic growth, several tit-for-tat policies were announced by the Biden administration in the United States in 2022: the CHIPS and Sciences Act and the Inflation Reduction Act. Looking for issues that could achieve a bipartisan consensus at a time of increased domestic polarization, these policies included several restrictions on export  of semiconductors and in-bound investments in sensitive technology that called out Chinese technology giants, as well as new domestic subsidies to spur domestic production of both chips and green energy products. These new regulations had put in place some of the strongest restrictions on the export of both high-speed chips and the fabrication material and machinery used in their production. Moreover, the Biden administration successfully pressured countries like the Netherlands, Japan, and South Korea who dominate the lithography equipment market to also put in export control on materials and machines used in high-speed chip production. While commentators called this an attempt by the West to de-couple its technology production from China, the Biden administration noted it was de-risking its supply chains for national security purposes.
Unsurprisingly, China has viewed these anti-competitive policies and regulations as an attempt to thwart their technological development in high-speed computing and specifically in the emerging technology space of artificial intelligence which depends on these cutting-edge semiconductors. In a retaliatory albeit constrained move, China announced a ban on the export of some rare earth materials, gallium and germanium, used in the production of some of these semiconductor chips and in low-carbon technologies. However, while China is a world leader in the production and processing of many rare earth metals, it does not have a monopoly on these two particular rare earth material products, and it is doubtful that this export restriction would be enough to thwart Western production of semiconductors. Nevertheless, China's overall dominance of the global production and processing of the very critical rare earth elements to be used in renewable energy, electronics, and defence products is a reality with few short-term solutions and could certainly be restricted further if China so chooses. Western, and notably Canadian, efforts to enhance their  own exploration and processing capacity of critical minerals is accelerating, but the negative impact this industry can have on the environment and public health also makes this a more complicated policy choice with potential for significant domestic political opposition.
The prospects of this technological Cold War hardening and worsening are also explained by the political realities of both the United States and China needing to use the other to blame for their own inherent challenges. The United States is struggling with deep socio-economic and racial inequalities that are compounded by a domestic political space that is highly polarized and currently designed to bring magnanimous populist leaders to power. The return of Trump or more likely Trumpism, to the White House in 2024, and certainly to Congress, will further heighten anti-China sentiment this coming year. Even if Democrats manage to maintain some control over the executive and legislature, the only bipartisan consensus in Washington DC today and the near future is that China must not win this so-called technological battle for supremacy. Economic and industrial policies are only likely to succeed in this fractured political landscape if China is the one being targeted and thwarted, so expect this issue to resonate on the campaign trail of both American political parties.
Currently, the Chinese economy is struggling in part because of state debt accrued from the oversupplied real estate sector, but also the overall lack of consumer and investor confidence, which thwarts consumption and spending and therefore slows down the economy further. Technology firms are often seen as the engine of new economic growth throughout China, but they have also been under greater scrutiny for their rapid rise to power and business leaders have been accused of corruption by state authorities, for vocalising mild criticism of domestic policies, as made clear by the temporary disappearance of Alibaba founder Jack Ma. This has made many large Chinese technology firms worried about government overreach into their business which will invariably stall domestic investment into innovation and expansion. China's President Xi has, uncharacteristically for China since Mao Zedong, secured a third term as president and consolidated power with trusted cronies. He will continue to blame the West's technological decoupling for all of China's current woes while the economy continues to deteriorate. As Xi scapegoats the West for his domestic economic challenges, there is further risk of broader retaliatory policies coming from Beijing.
The broader technological Cold War will invariably impact the science policy and research communities. We have already seen new Canadian government policies being announced and tri-council research agencies' regulations rolled-out to post-secondary institutions that all aim to safeguard Canadian research. These regulations are supposed to be country agnostic, but they principally call out Chinese military universities and institutions that are deemed to be a high national security risk. While the attempt is to put a high fence around a small yard of Chinese institutions, this will invariably lead to increased decoupling from the broader Chinese research community. The ripple effects this is having on international research cooperation with Chinese researchers and institutions is significant and undoubtedly worrying after years of building engagements and scientific interlinkages. Regardless, the geopolitical analysis offered here suggests that this bilateral relationship will worsen due to increased political pressures in both the United States and China, and the effect it will invariably have in business and research communities will be chilling.