Science Meets Parliament 2021-2022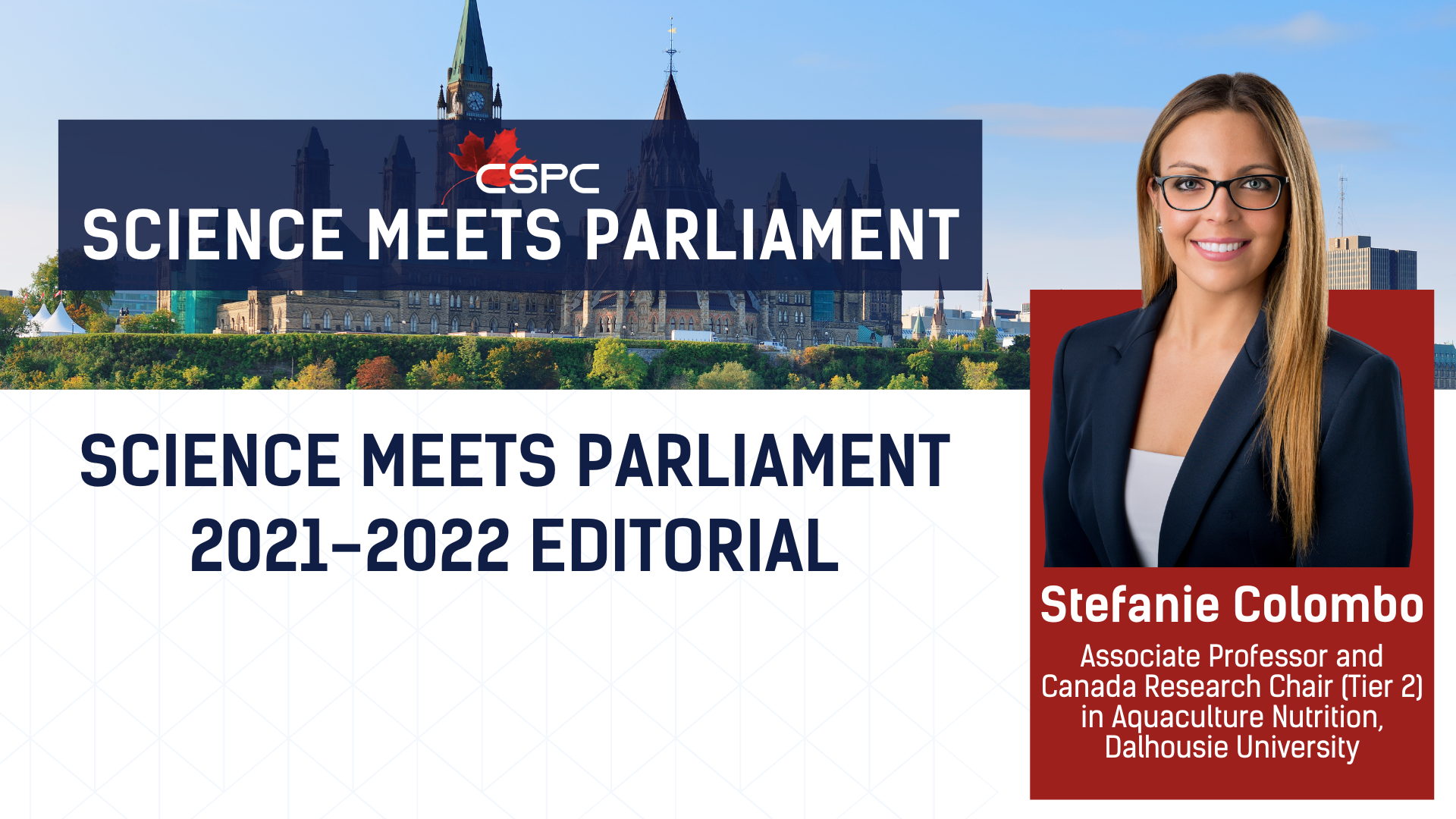 Associate Professor and Canada Research Chair, Aquaculture Nutrition
In Winter 2021, I was selected as a delegate to participate in the Science Meets Parliament program. I wanted to learn more about how my research could be used as evidence/information in making policy decisions about aquaculture. The objective of the program was to strengthen the connections between Canada's scientific and political communities, enable a two-way dialogue, and promote mutual understanding. Essentially, the intent is to help scientists become familiar with policy making at the political level, and for Parliamentarians to explore using scientific evidence in policy making. 
The importance of science communication
After a year of virtual sessions that engaged us and enriched our knowledge on a variety of topics related to science and policy in Canada, we gathered as a group in Ottawa on May 9th and 10th. Our first day emphasized the importance of science communication. Dr. Mona Nemer, Canada's Chief Science Advisor, expressed that science is an important part in decision making in Parliament and that politicians want to learn more about science but need to understand the relevance, hence why communication is key. She also discussed her experience in becoming Canada's Chief Science Advisor, to which she provided candid, useful advice: that being offered new positions doesn't mean you know everything about how to do the job, but it is based on your ability and potential and willingness to accept opportunities and new challenges. I really appreciated this advice as someone who is early in my career. We were also invited to share our 'elevator pitch' to Dr. Nemer, to prepare us for the Hill. She provided positive feedback and constructive criticism to each of us, which was very cool! 
Rhonda Moore, Senior Practice Lead at the Institute on Governance, gave us some helpful tips on science communication. She talked about the importance of explaining our work in a way that the information is accessible and can be received, emphasizing plain language and brevity. Making knowledge accessible, having a 'hook', and making our work relevant for the Parliamentarian's riding and constituents were important take-home messages. Pari Johnston, VP of Policy and Public Affairs for Genome Canada, encouraged us to understand how Parliamentarians use narrative in speeches, op-eds, and social media, because this is how they frame science, technology, and innovation into policy. 
The Hill
On the second day, I was assigned to shadow MP Lena Diab (Halifax West) and was to meet in her office in the Justice Building, along with a fellow delegate, Dr. Lachlan MacKinnon (Cape Breton University). We had a chance to chat prior to her first meeting, and I learned about what it was like to be a MP, what a typical day was like, and her previous experience as a Provincial Cabinet Minister. I admired her ability to be versatile and quick-thinking and have a breadth of knowledge on a wide range of topics throughout her daily activities, as she sped-walked (literally) across the Hill to various activities. 
Then, we attended Question Period, which was an interesting experience. During Question Period, there was an array of random points raised by (mostly) Parliamentarians of the opposition to the Speaker: nothing was resolved, there were interruptions, yelling, accusations. It seemed chaotic, but it is the time for the opposition to question the party in power regarding pressing issues. After question period, we attended the Justice Committee meeting. This is where I learned how evidence can truly be used in decision making, with expert witnesses providing science-based evidence to resolve an issue or understand a new bill.  
At the end, the CSPC hosted a reception where Dr. Nemer, Parliamentarians (including MP Diab), and Senators emphasized the importance of science in Parliament. I had the chance to meet several Parliamentarians from ridings across Canada, including Dr. Kirsty Duncan (former Minister of Science, and current chair of Science and Research Committee). I was inspired!
Lessons Learned
The program gave me an inspiring and motivating experience which helped me better understand the channels of how my research can be used in decisions made in Parliament, and ultimately, have a positive impact on Canadians. A few take-home messages I learned:
Science communication is so important! Not only with Parliamentarians and Senators but also communicating with the public about science. Developing a relationship with Parliamentarians and Senators can foster engagement and dialogue.

Standing Committees are a key forum where science-based evidence is used in decision making in Parliament. I have not yet been invited as a witness to a committee meeting; however, I am working on establishing relationships with Parliamentarians that serve on relevant committees in my research so that I can provide evidence for some of the current issues in aquaculture. 

Finally, it gave me a greater appreciation for what our Parliamentarians do (as well as our provincial politicians). They need to be versatile and quick-thinking and know a bit about pretty much everything. They may be shuffling from one committee meeting to the next and need to listen about and discuss completely different topics. They have demands from constituents, lobbyists, and more, which need to play a part in their role on the Hill and their voting. 
Finally, I learned that is not a 'given' that fact-based evidence has been used to make important decisions in Parliament, much to my surprise. There is a lot of room for more scientific evidence in discussion and policy decisions. This is both a challenge and opportunity. From my perspective, this experience has armed me with more knowledge and tools about how the work I do can be useful in shaping Canada's future policy, particularly regarding my field of research in aquaculture. The program was such a formative experience to me; I am more informed about decision-making in Canada, and most of all, I can see a clearer picture of how my research can contribute to policy.