Securing our common future: the bold path for transformative conservation in Canada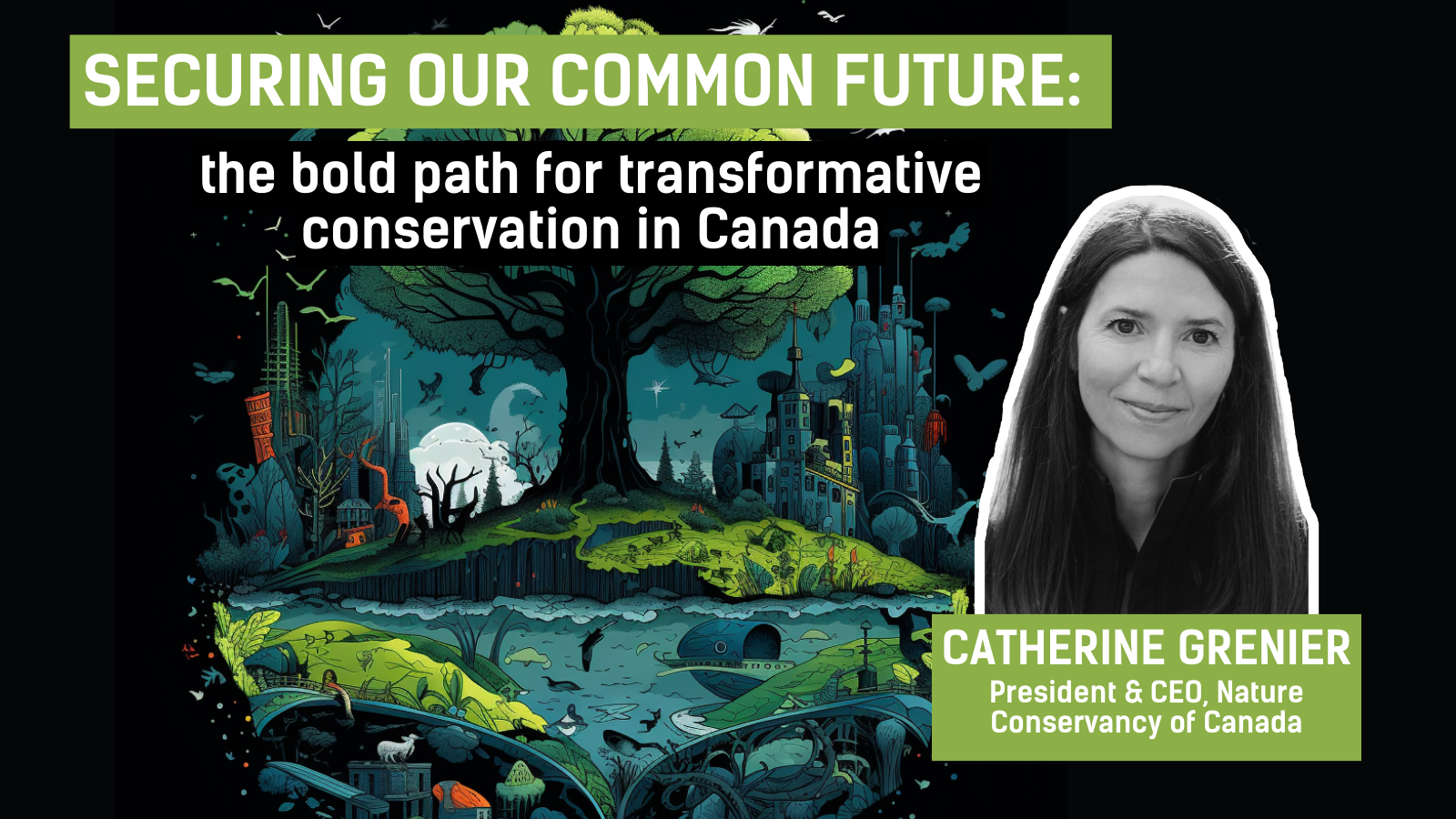 Nature Conservancy of Canada
It's impossible to ignore: the climate change and biodiversity loss crises are impacting almost every part of Canada. Historic fires, widespread flooding, severe drought and other climate-related disasters have cost billions of dollars of damage; not to mention the unquantifiable and tragic impacts to hundreds of thousands of Canadians. No one is exempt from the impacts we are seeing and feeling across the planet. Urgent and collective action is required now.
More frequent, more intense and larger fires, floods and storms are signals that something is wrong. While it might be hard for the average person to see or feel the tremendous loss of biodiversity, it is all around us and getting worse. Current extinction rates are between 100 to 1,000 times higher than natural rates and increasing; one out of every five assessed species in Canada is at some risk of extinction. Weakening the web of life puts at risk the food we eat, the water we drink, and the air we breathe. However, just as nature's loss touches all of us, so too does its recovery. Because without nature, there is no us.
The Nature Conservancy of Canada (NCC) has a more than 60-year track record of delivering permanent, on-the-ground results for nature and people. Yet despite our successes, the urgency of the biodiversity and climate crises demands that we accelerate the pace of work; we are committed to doubling our impact by 2030. We know we must also learn from our experiences and radically transform the way we do that work, using innovation, ambition and optimism to drive us forward.
To secure a common future for all, the bold path for transformative conservation requires investment in and collaboration on the development of new tools and approaches: creative research partnerships, next-generation technologies to make smarter use of data, monitoring and planning tools that track, understand and communicate changes on local, regional and national scales, and financial tools that support responsible private sector investment to protect and restore nature.
There is no question that all of society needs to do more to address the most important crises of our time. Here's where we need to lean in:
Research partnerships 
Canada's Chief Science Advisor, Dr. Mona Nemer, noted in her most recent annual report that Canada's science is the envy of many countries around the world. Science is also a vital source of information to develop effective policy: "Policymakers and legislators need timely access to relevant scientific insight, communicated clearly and concisely." Strong scientific research is essential in evaluating threats to biodiversity and comparing the effectiveness of conservation strategies.
NCC uses the best available evidence – both science and Indigenous knowledge – to monitor nature, identify conservation solutions, and test the results of our work. We partner with hundreds of experts from academia, all orders of government, Indigenous communities and other non-governmental organizations to deepen our collective understanding of the land and water where we work, and the species and people who live there and rely on those places.
For example, in PEI, we work with the Epekwitnewaq Mi'kmaq to protect and care for Kwesawe'k (Oulton's Island). Indigenous community members and NCC staff are collaborating to learn about the island's rich natural heritage and are developing a plan to return the island to the Mi'kmaq community.
Studies of ecological connectivity, sometimes called the "safety net for nature" represent another new exciting venture. It is even more important as human modification of landscapes and climate change affect where species live and move, and how they interact. Using decades of monitoring data, satellite imagery and mathematical modelling, we are measuring connectedness among all protected areas in Canada and identifying connectivity thresholds for different ecosystems and species.
Because conservation is rooted in action on the ground, we pair natural science with social science to understand the practical considerations of management actions, such as the feasibility of implementing different combinations of activities by different groups to achieve conservation goals.
Collaboration on research projects such as these can generate critical information needed to set policies to drive Canada's conservation efforts.
High tech conservation
In a space where conversations can be limited by differential access to high-quality information or the ability to picture the likely outcomes of different decisions, access to data and decision-making tools is crucial.
NCC is leading a unique Conservation Technology Project in partnership with Carleton University to create spatial planning tools that can help governments and organizations make informed decisions about land use, including conservation. Thanks to an open-source tool, called SITES, real-time discussions can happen with actual data and analysis. Members of the public, landowners or partners can see the impact of different decisions with the click of a mouse.
And the most revolutionary technology space of this era has potential in conservation as well. Decision-making and monitoring programs benefit from "machine learning," with NCC leveraging first-of-their-kind AI systems to make complex math tools more accessible to more users.
When combined with the right tools, knowledge and expertise, conservation technology offers an important opportunity for business leaders to gain a footing in the nature economy.
Investing in nature
As the private sector shifts toward net-zero and nature-positive commitments, the pool of private capital available for conservation is growing. When companies commit to more environmentally responsible practices and invest in conservation, they are helping to solve the climate crisis by supporting nature-based solutions, like conserving and restoring ecosystems that store carbon and filter water.
NCC's Nature + Climate Projects Accelerator ("the Accelerator") is developing ways for the private sector to help meet their climate and nature commitments when they invest in NCC's conservation work. The program identifies potential conservation projects that meet specific eligibility criteria, such as being under threat of conversion from an intact landscape to commercial land use. For these projects, leveraging carbon offsets and other nature-based solutions is an opportunity to tap into new sources of revenue, allowing NCC to do more conservation, faster.
We are currently leading two made-in-Canada projects: the Darkwoods Forest Carbon Project in British Columbia and the Boreal Wildlands Carbon Project in Ontario. Both are highly certified projects under international standards that stand as excellent examples of conservation projects where the Accelerator is leveraging carbon markets to accelerate private sector investment in nature.
Investing in nature results in win-win environmental and economic outcomes for conservation and for the private sector.
A whole-of-society approach to transformative conservation
COP15 was a watershed moment for global conservation and a major achievement for Canada. The hard work of meeting the ambition of the Kunming-Montreal Global Biodiversity Framework has begun. For instance, with just over 13.5 per cent of land and water in protected status, Canada's progress towards 30 per cent protected (Target 3) does not reflect the urgency of the twin crises of biodiversity loss and climate change. And there are 22 other targets that need attention. As the host of COP15 and home to some of the world's largest remaining intact landscapes and carbon storehouses, Canada needs to show progress on the world stage.
We have ways to unlock innovative and transformative conservation solutions. But only when we have everyone at the table can a common resilient future be ensured. For millennia, nature has supported our lives. Now, its future depends on our collective commitment, investment, and action.