The Arctic in Changing Times: Summary of Science Policy Perspectives
Ph.D. Candidate in Environmental engineering
In the past decade, Arctic research has highlighted key drivers of climate change. This includes thawing and abrupt permafrost thaw, microbial mediated permafrost biogeochemical transformations, release of greenhouse gases, interdependencies of vegetation loss and melting ice covers and more, which leads to long-term environmental and socio-economic impacts and posing adverse effect on Northern communities. Arctic research is important to resolve the gamut of environmental, geographical, and climatic factors that govern the mechanisms above. Furthermore, in the face of the COVID-19 global pandemic, robust science policies are required to drive innovation and research in such extreme environments to i) improve mechanistic understanding of climate-change causing events, ii) enhance preparedness for the 4-million Northern communities currently inhabiting the Arctic. This is especially important for Canada, considering the country has the longest Arctic coastline globally, and is experiencing warming at 3-times higher levels than the global average. The UN Environment Programme's Rapid Response Assessment identifies community infrastructure, field-based investigations, quantitative characterizations, contaminant mobility, capacity building and knowledge dissemination as pivots towards more effective permafrost policies. 
Schematic 1. Distribution of COVID-19 confirmed cases in the Arctic (Source: ARCTIC Center, UNI)
As of August 2022, 2.5 million confirmed cases of COVID-19 were reported in the Arctic (Schematic 1), with cases still rising. Poor infrastructure, remoteness, and fewer health options (versus mainland) increases the Arctic's vulnerability to SARS-CoV-2 infection. The pandemic is expected to continue, driven by variants with varying transmissibility and lethality. From the standpoint of Arctic research, the 'new normal' presents significant challenges to resume scientific activities on site, with particular attention to preventing transmission of SARS-CoV-2 variants from the mainland to the Arctic's remote communities. Robust policies are needed to address this challenge to continue permafrost research with minimum impacts on the health and environment of the communities. Some drivers include: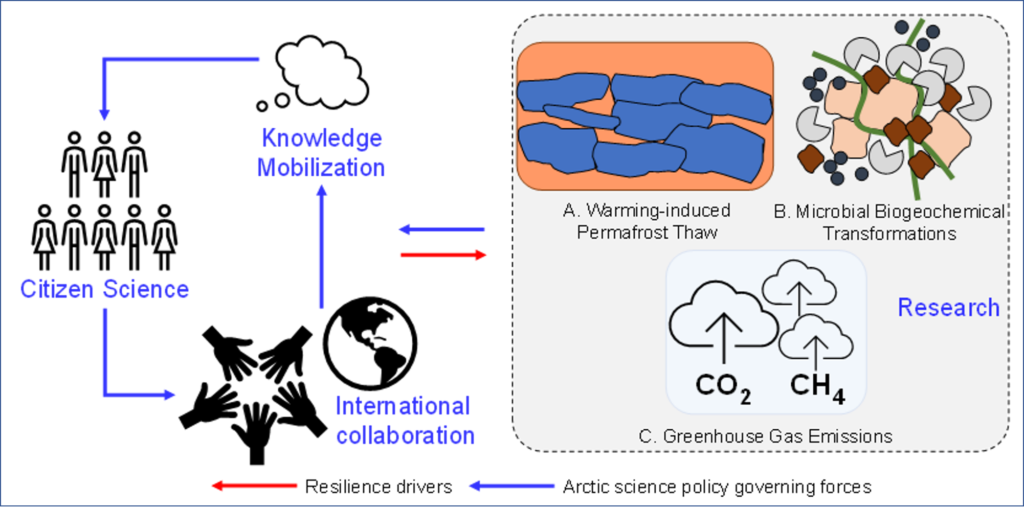 Schematic 2. Forces and Drivers for Arctic Science Policies 
The Arctic is warming at 4-folds faster than the global rate. This brings risks such as abrupt permafrost thaw, loss of infrastructure, adverse impacts on flora and fauna etc. While the scientific community collectively tries to address these risks through more informed risk–assessment strategies, the global pandemic and current geopolitical tensions call for more planned and resilient strategies to continue Arctic science in a safe and sustainable manner, and in collaboration with stakeholders.